NESP Northern Australia Environmental Resources Hub
June 2021
In the face of growing interest in the waters of the Warlibiddi and Martuwarra (Margaret and Fitzroy Rivers) in north-west Western Australia, NESP research has partnered with Traditional Owners to increase our understanding of the rivers' important cultural and environmental requirements. In this short film, senior Gooniyandi artist Mervyn Street shares his art and storytelling about the waters of the Warlibiddi and Martuwarra, and the waters' vital significance to the Country and people's lives.
Mervyn shares his wisdom to help viewers understand the rhythms of water and life and what they mean in his philosophical tradition. He also hopes it will help viewers understand the importance of the Warlibiddi and Martuwarra waters to not only sustain life, but also enable social connections and sustain culture for future generations.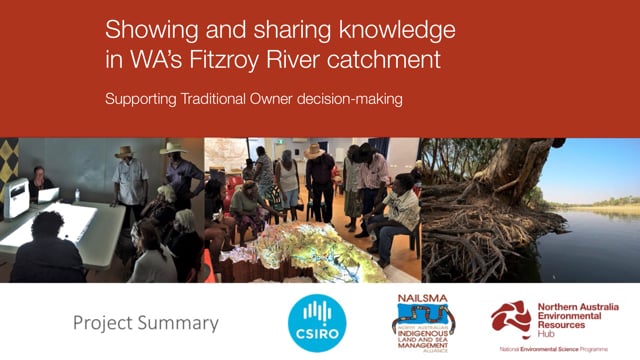 May 2021
In the Kimberley's Fitzroy River region, Traditional Owners and scientists have been working together on a project supported by the National Environmental Science Program (NESP) to help Indigenous land managers find better ways to use both scientific and Indigenous knowledge (IK) for making decisions for Country. Traditional Owners and scientists learned together and co-developed different ways of showing and sharing knowledge. The project was supported through collaborative research agreements with 10 different Traditional Owner Groups through their relevant organisations.
Showing 133-144 of 445 results, page 12 of 38.